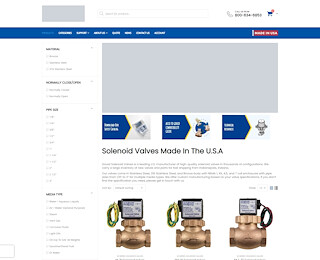 Navigating the world of solenoid valves can be complex, especially when you're dealing with critical applications like gas control. In these scenarios, safety, reliability, and precision become paramount. This is where Gould Solenoid Valves shines. Offering a range of high-quality, performance-engineered solenoid valves, Gould is a trusted name in the industry, manufacturing products that can handle the nuances and demands of gas control applications.
Feel free to buy solenoid valves for gas right here on our website. You may also continue reading to learn more about our solenoid valves for gas.
Understanding Solenoid Valves for Gas
How They Work
A solenoid valve for gas control operates on the same basic principles as other solenoid valves. The key difference lies in the specifics of design and construction that cater to the unique requirements of gas flow control. The valve remains closed when de-energized and opens when an electric current is applied to the solenoid, allowing the gas to flow.
Key Considerations
Safety: A malfunctioning solenoid valve in a gas application can have serious consequences, making safety a crucial aspect. Gould's solenoid valves for gas come with leak-proof seats and reliable closing mechanisms, reducing the risk of gas leaks.
Material: The valve's material must be compatible with the type of gas in use. Gould offers valves in Stainless Steel, 316 Stainless Steel, and Bronze, which are suitable for a wide variety of gases.
Response Time: Fast and precise response times are vital, particularly in applications where rapid shut-off is required for safety reasons.
Gould's Solenoid Valves for Gas Control
At Gould, our line of solenoid valves for gas includes the M Series, Q Series, K Series, and B Series. Each product series offers specific benefits, ensuring a fit for every application.
The M Series, for instance, features robust bronze construction and viton leak-proof seats. These valves can handle a pressure range of 5-125psi or 10-250psi, making them perfect for most gas applications.
The Q Series, on the other hand, has buna leak-proof seats and operates at a slightly higher pressure range (5-150psi). This series is well-suited for light oil and inert gas applications, including natural gas.
Why Choose Gould?
Choosing Gould Solenoid Valves for your gas applications brings numerous advantages:
Made in the USA: Gould Solenoid Valves are proudly manufactured and assembled in the USA, ensuring high-quality standards and supporting local industries.
Large Inventory & Fast Delivery: We maintain a large inventory of valves and parts for fast shipping from our Indianapolis, Indiana facility.
Custom Manufacturing: We offer custom manufacturing based on your specific valve requirements. If you can't find the specification you need, we're ready to assist.
Prioritize Performance and Safety with Gould
When it comes to controlling gas flow, it's essential to have a reliable, high-performing solenoid valve. With Gould Solenoid Valves, you can be assured of top-notch performance, safety, and quality. Contact us at 800-634-6853 to speak with our experts and find the right solenoid valve for your gas control applications. With Gould, you're choosing not just a product, but a trusted partner dedicated to your success.
J D Gould Co Inc
+1 800-634-6853
4707 Massachusetts Avenue
Indianapolis
IN
46218
US