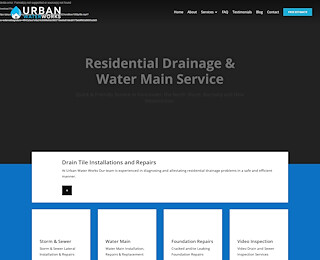 When your basement floods you need to get professional help quickly. Turn off the water main so that if the problem is a broken pipe it will stop flowing. A flooded basement in Burnaby isn't just annoying, it can also be costly. Some of your precious belongings could be ruined by floodwater. Water in your basement could occur for a number of reasons. Most commonly, the water could signal a broken pipe or a backed-up sewer line. A professional repair company will be able to evaluate and fix the problem.
Fix the Problem of a Flooded Basement in Burnaby
An experienced water main and drainage expert will inspect the situation to determine what caused the flooded basement in Burnaby. If there is a broken or leaking pipe it may be visible. In some cases, the broken pipe could be located behind a wall or under the foundation or underground. If the problem is a clogged sewer main, it will need to be cleared out.
The service professional has the expertise and the tools available to properly assess the problem. When the leak or cracked pipe is underground or behind a wall, he can use a special camera to view the inside of the water main or sewer. In many cases, if the pipe is simply cracked a portion of it can be replaced.
Sometimes an entire section will need to be replaced. Other times the sewer could be clogged and needs to be cleaned. Once you know where the problem lies you can determine whether it is something you need to fix or whether it is a municipality problem. Typically, any pipes that extend to your home from the street main are your responsibility.
Repairing Damaged Pipes
Pipes can be repaired in sections. Once the broken area is located we develop a plan to replace the damaged pipe. If the pipe is outside, underground, it may require digging or it may be able to be replaced without having to dig. Each situation is different so we will assess the damage and provide you with the options that are available.
In the case of a flooded basement in Burnaby, you will likely need to get the damage repaired quickly so you can turn the water back on without fear of it causing more water leaks. It is best to call in a professional who has the tools and the expertise to diagnose and fix the problem as soon as possible.
A flooded basement in Burnaby is a serious situation but it doesn't have to be stressful. Call a reliable repair company to fix the problem and you can rest assured that the repairs will be made quickly and affordably. If you notice a leaky pipe or see that your basement drain seems to back up at times, don't wait to call a repair company. The problem will only worsen and it could cause your basement to flood. Contact our experienced water main and sewer repair team to resolve your problem today.
Contact Urban Water Works Today!